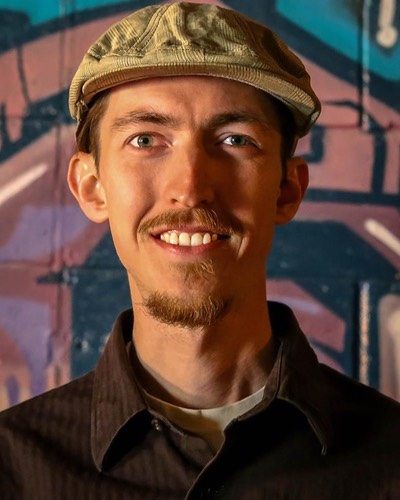 I am a multi-instrumentalist, specializing in drum set, marimba/vibes, and hand percussion.  I perform with Baracutanga, Rahim Alhaj and other Albuquerque bands, as well as performing as a solo artist on marimba and voice.  As an educator, I teach private lessons at my studio in Albuquerque and through SessionsAcademy.org, as well as popular music classes through the New Mexico Jazz Workshop's Empowerment Through Music Program.  I also help lead and accompany the Dances of Universal Peace and interfaith chanting in Albuquerque.
I earned a Bachelor of Arts in Music (percussion) degree with an area of concentration in Spanish from the University of Missouri-Kansas City, where I studied with James Snell, Nick Petrella and Doug Auwater.  I earned Master of Music degree in Percussion Performance from the University of New Mexico, where I served as a T.A., coaching the marching band's front ensemble, teaching the Percussion Methods class and private lessons.
I have studied Afro-Cuban batá and congas with Ricky Carrido, Brian de la Fe and Carlos Aldama and am omo aña; Middle-Eastern percussion with Brandon Draper, Issa Malluf and Alauddin Ottinger; North Indian Pakhawaj and Khol with Phil Hollenbeck; and South Indian (Carnatic) voice with Ashok Immaneni. 
I have played and studied the music of Trinidad, Brazil and Cuba with Frank Leto, performing on steel drum, batá, and other percussion and singing in various languages.  With Frank, I have also learned about teaching Montessori and directing a steel band. 
I taught private lessons in snare and drum set for Big Dude's Music from 2005-2009.
I taught the hand drumming class for the Albuquerque Academy's Summer Session from 2012-2018.
I have been an all-state percussion clinician at Los Lunas High School from 2015-2019.
I have been a featured percussion clinician for Eric Stoneking's Summer Knights, band camp from 2015-2019.
I taught private percussion lessons for the New Mexico School of Music from 2015-2016.